Diagnostics
When a pet is showing signs of ill-health or symptoms of an illness, as well as ensuring your pet is comfortable, our first step is to try to understand if there is an underlying issue, to help explain the condition. To get beyond the symptoms, we often need to use diagnostic equipment. Sometimes a range of tests are best performed together, to help present a complete, 360 degree overview of your pet's health, to ensure an accurate and as detailed diagnosis as possible. This is key to ensuring the right treatment, and the best possible outcome.
We offer integrated veterinary care (general, primary, specialist, hospital & 24hr emergency care), with state-of-the-art equipment and facilities, to support our experienced team.
Blood Tests and In-House Internal Laboratory:
We have a range of blood machines in our laboratory, which enables us to run the majority of samples in-house, rather than having to utilise and wait for external laboratories. These include; critical care blood gas machines and a number of specialist machines, which test for infectious diseases and clotting profiles. Our specialist machines are key in providing rapid, accurate results, critical in a range of emergency scenarios.
Blood samples are easily taken, often without the need for sedation and we are also able to run urine, faecal, microscopy and culture tests in-house. Occasionally is there a need for us to send certain samples to specialist veterinary laboratories, utilising a courier service.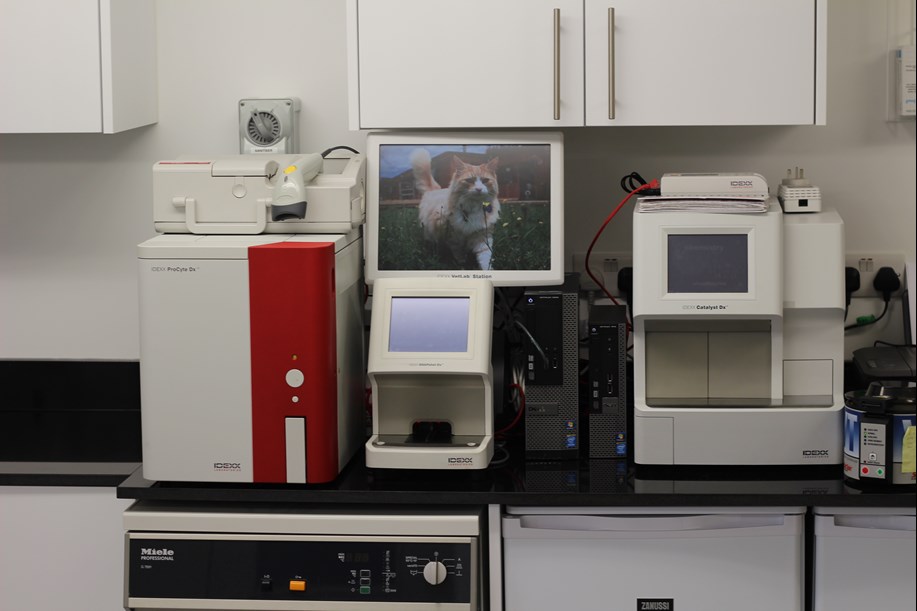 Digital X-rays:
X-rays enable us to see bones, organs and soft-tissues. They are key in helping us to diagnose bone, back and joint injuries, identifying chest/heart issues, as well as a variety of abdominal conditions, such as enlargements of internal organs or foreign bodies. We usually perform X-rays under a light sedation, to ensure pets remain as calm and as still as possible during the procedure.
Digital X-rays produce a high quality, sharper, clearer image, to support the most accurate diagnosis. Another benefit is a low exposure to conventional X-rays. Digital images are stored and if a 2nd opinion is needed from our specialist team, they can be easily and instantly shared, by email.
Ultrasound:
Ultrasound uses sound waves to assess internal organs and blood flow (direction and speed). It's invaluable in assisting in the detection and diagnosis of most heart conditions, level of severity and many abdominal related conditions.
It can also be used to: assess the size and shape of internal organs; to detect cancer, spread of cancer, growths and cysts; inflammatory conditions, such as irritable bowel syndrome; to gauge the motility of the bowel, detect subtle thickening within internal organs; kidney and bladder stones.
Ultrasounds are usually performed without sedation, unless we also require an X-ray, in which case, one procedure may be carried out directly after the other. Should we believe further investigation is necessary, ultrasound under sedation enables us to very accurately direct a tiny needle into a very specific target area, to obtain a sample, without having to perform surgery.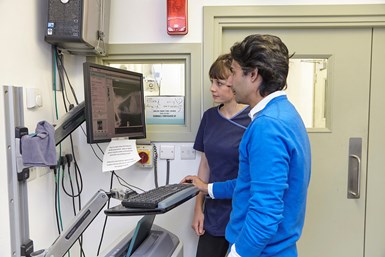 Our primary veterinary team performs general ultrasounds, but in some instances, we may use one of our specialists. A diagnostic imaging specialist has done years of training, in a specialist field, and often uses even more sophisticated equipment and probes, to ensure the most accurate details, pictures and measurements are captured for diagnostic purposes. This helps us to determine the very best course of action for your pet.
Endoscopy
An endoscope is a small fibre-optic camera used for visualisation into body cavities. A small port enables equipment to be passed through the scope, making it possible for us to see into the nose, throat, airways, stomach and intestines, without the need for open surgery.
This procedure is key to the diagnosis of conditions such as; asthma, chronic rhinitis and inflammatory bowel disease. We can obtain samples for analysis, or remove foreign bodies such as; bones and grass seeds, easily picked up during day-to-day activities, or small toys, sampled by overly-inquisitive pets. Endoscopy is performed under a short anaesthetic and pets usually recover quickly from this painless procedure.