Wandsworth
Welcome to our Wandsworth practice. The practice is located in the shopping parade on the Barmouth Road. Local clients often walk to the practice, parking is available all along the road, and bus stops are only a short walk away.
Our Wandsworth practice is well-established in the area and in 2014, the practice was refurbished with the addition of the latest operating theatres, diagnostic equipment, comfortable kennels, and to create a larger waiting area.
Continuous investment is made to better support our highly experienced team, to enable us to offer world-class general, primary, consultation, diagnostic, surgical services and the very best of care for you and your pets.
For more complex cases, surgeries, specialist and 24hr emergency care, we may treat your pet in our near-by hospital in Surbiton. Complimentary transport is available, if needed.
Address
Voo Vets Wandsworth
8 Barmouth Road, London. SW18 2DN Tel: 020 8874 5666 Email: wandsworth@welovevoo.com
Opening Times
| | |
| --- | --- |
| Mon | 8:30am - 7:00pm |
| Tue | 8:30am - 7:00pm |
| Wed | 8:30am - 7:00pm |
| Thu | 8:30am - 7:00pm |
| Fri | 8:30am - 7:00pm |
| Sat | 1:00pm- 5:00pm |
| Sun | Closed |
24Hr Emergency Number:
07714 295844
Appointment
To request an appointment online, please use the form below. We will respond within 24 hours.
Meet The Team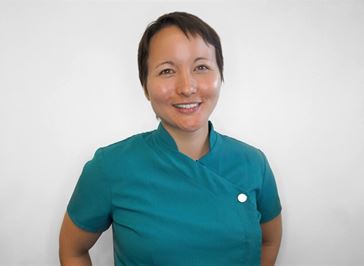 Karmen Webbe
Senior Veterinary Surgeon
I completed my Veterinary degree at Cambridge University in 2010, and in 2012 I joined Voo in the London Practices, after working in a mixed practice in Northumberland for a year.
I grew up in South West London and returned to the area, to work in an exclusively companion animal practice. I really enjoy being part of the community - meeting the people and their pets who make up the family. Wandsworth is particularly special, it has a real village feel, in spite of being in London and I like that people wave and stop for a chat when I'm outside of work.
As a team, we have a strong emphasis on continuity of care, so I know my patients will get the right treatment for their condition and the best possible care, irrespective of whether I do all of the treatment or refer a patient to our hospital, for specialist, 24hr emergency or hospital care.
As a senior veterinary surgeon, I ensure quality standards across the team, and train and develop each member of the team, encouraging and supporting them to reach their highest potential. I am also responsible for the more complicated cases and love seeing second opinions. I like all areas of primary care practice, as the variety of the role attracted me to the profession. My special interests are with exotic species, especially rabbits and general surgery. I really enjoy surgery and am looking forward to continuing to progress my keyhole surgery techniques.
Laura Raine
Junior Associate Veterinary Surgeon
I am originally from the North-East and made the move to London in 2017, after graduating from the University of Cambridge. My favourite aspect of being a vet is building a bond with the animals we treat and their owners, and following their progress across their visits to the practice.
At Voo, we provide great care for the pets we treat. We place a strong focus on trying to find a specific diagnosis when an animal presents as unwell, which enables us to decide on the most effective treatment plan possible. I am interested in all areas of small animal practice, but particularly enjoy surgery, as well as meeting some of the more exotic pets we have visiting our practices.
I have a 13 year old Yorkshire Terrier named Tilly, however, as she still lives up north with my parents, I really look forward to the weekends, when I can go home to visit her for cuddles.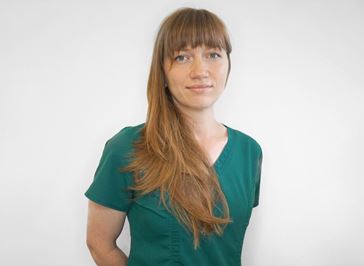 Svetlana Volodoko Registered Veterinary Nurse
Senior Veterinary Nurse
I qualified with a veterinary nursing diploma from Vilniaus College, Lithuania, qualified and registered with the RCVS in 2016. I have been part of the Voo team for six years now, prior to that I worked in a small animal hospital for three years.
I really enjoy the challenges and variety of my role, and the reward of seeing our patients getting better.  As a Senior Veterinary Nurse, I am also responsible for quality assurance, training and development of the nursing team, to the highest of standards. I am particularly skilled in dermatologic nursing and clinical cytology, which involves a lot of microscopy work.
Voo is a family owned and run group, with a friendly team, who are always happy to see clients and are passionate in providing the very best of care for all our patients. Our primary care team works very closely with our experienced specialist team, in fields such as imaging, surgery and dermatology, so we can ensure our patients get the very best treatment, to recover as quickly as possible. 
Amy Carmichael
Student Veterinary Nurse
I am halfway through my course, studying with the College of Animal Welfare, in Potters Bar. Being a student and fairly new to the Voo Team, I am really enjoying the variety of my role and in particular learning about diagnostic imaging and inpatient care. 
As Voo has a team of specialists and a dedicated 24hr emergency and hospital care team, we don't need to refer any cases to unfamiliar, external clinics. This means we are able to care for our patients from initial diagnosis through recovery, which really builds a bond between us, the patient and the client. The team is really friendly, knowledgeable and experienced, the facilities and quality of care are excellent and everyone really cares about our patients.
I am known for my love of cats, and have two of my own rescues, Missy and Poppy, from Cats Protection.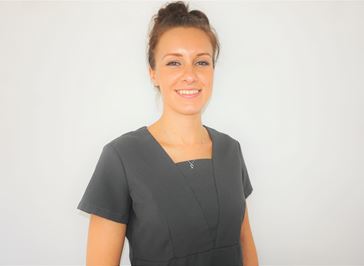 Kitty Ayling
Customer Care Receptionist
I started working with Voo Veterinary Group in June 2017, as a Customer Services Manager. I love learning all about our patients, their various conditions and wide range of treatments.
We provide a very personal service, which focuses on getting to the root of a problem and ensuring our patients get the best possible care, to live a full and happy life. It's always amazing to see our patients getting better and watching new puppies and kittens grow into adulthood.
I have a Bichon Frise called Fizz, two tortoises and a hedgehog, who are also visitors to our Wandsworth practice! I look forward to continuing to grow with the practice and hope to welcome you and your pets at Wandsworth soon.
Services
Free 2nd opinion?
If, on the rare occasion, you're unsure about a diagnosis, we offer a free 2nd opinion with one of our specialist team
What to know more?
Simply click the button below and we'll contact you to understand how we may help you and your pet