Cobham
Welcome to our Cobham practice, located in Copse Road, close to the main High Street, just off the A307 Portsmouth Road and only a few minutes from the A3. Local clients often walk to the practice, there are two parking spaces on the practice driveway, ample parking along the road, and bus stops are just a short walk away.
Our Cobham practice is well-established in the area, having offered general, primary care services since the 1970s. In 2008, the practice was converted, with the addition of the latest operating theatres, diagnostic equipment and comfortable kennels.
Continuous investment is made to better support our highly experienced team, to enable us to offer world-class general, primary, consultation, diagnostic, surgical and advanced care services and the very best of care for you and your pets.
For more complex cases, surgeries, advanced care and 24hr emergency care, we may treat your pet in our near-by hospital in Surbiton. Complimentary transport is available, if needed.
Address
Voo Vets Cobham
26 Copse Road, Cobham, Surrey. KT11 2TW Tel: 01932 864671 Email: cobham@welovevoo.com
Opening Times
| | |
| --- | --- |
| Mon | 8:30am - 6:30pm |
| Tue | 8:30am - 6:30pm |
| Wed | 8:30am - 6:30pm |
| Thu | 8:30am - 6:30pm |
| Fri | 8:30am - 6:30pm |
| Sat | 2:00pm-5:00pm |
| Sun | Closed |
24Hr Emergency Number:
07714 295844
Appointment
To request an appointment online, please use the form below. We will respond within 24 hours.
Meet The Team
Rachel Harris
Senior Veterinary Surgeon
Since the age of 6, I have always wanted to be a vet and I don't think I even considered another career. I graduated from the Royal Veterinary College in 2008 and after one year in mixed practice, I decided to live and work near where I grew up, in Surrey.
As a senior veterinary surgeon, I ensure quality standards across the team, and train and develop each member of the team, encouraging and supporting them to reach their highest potential.
I am also responsible for the more complicated cases and love seeing second opinions. With the advanced care services we offer it is so rewarding helping clients who want or need that extra level of care. I have interests in brachycephalic dogs (especially Bulldogs), dermatology and infectious diseases. We have a great team here and always do our best to create a lasting, personal touch. 
I love animals and have a lovable Labrador called Dudley and a French Bulldog called Elfa. I also have a horse called Wi, who I spend time with eventing competitively.
Hayley Dent Registered Veterinary Nurse
Senior Veterinary Nurse
I joined the Voo team in 2012, after completing a BTEC and then my nursing diploma.
I love working with a team who always goes the extra mile to provide excellent treatment, to ensure the best possible outcomes for our patients. As a senior qualified nurse, I am also responsible for quality assurance, training and development of the nursing team, to the highest of standards. 
I enjoy all aspects of general nursing but am especially passionate about hospital care and emergency stabilisation. Veterinary nursing is something I have always wanted to do and I love spending time and creating bonds with the pets we care for.
Sophia Kang
Manager of RehabilitationTeam- Physiotherapy and Hydrotherapy
I joined the Voo team in 2020 after completing a Masters in Veterinary Physiotherapy alongside qualifying as a Level 3 Certificate Animal Hydrotherapist. 
I was the first member of the specialist rehabilitation team and am very proud of how far this department has come, as we do our best to treat every patient that comes our way, with all the love and care we can muster! 
I really enjoy seeing how all our rehabilitation patients not only love coming to our sessions, but the amazing progress they make, as I do my best to return them to their full functioning selves, post operations or any conditions they may have affecting mobility. 
I enjoy the whole rehabilitation side of veterinary medicine, but I am especially passionate about neurological cases and ensuring that not only the patient but also the owners have as much support as possible. 
I own a beautiful greyhound called Gilbert, who also may drive my secret soft spot for all sighthound breeds.
I absolutely adore working with all my Voo patients and I am pretty sure they also love me from the amount of treats and cuddles they get during our sessions!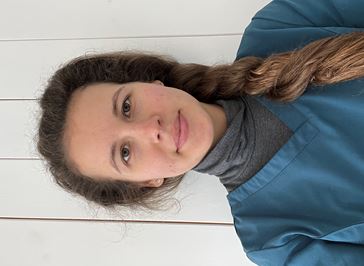 Antonia Bernau
Veterinary Hydrotherapist
I joined the Voo team in 2020 after completing my MSc  in Animal behaviour at the University of Exeter. 
From a young age I was interested in animal welfare and care and have always wanted to pursue a career in animal rehabilitation. Therefore, after completing my MSc I went on to get my Level 3 Certificate in Hydrotherapy for Small Animals at Greyfriars. I am eager to further my skills and knowledge and am interested in learning about how a combination of different therapies can benefit the rehabilitation process of our beloved four legged family members
Services
Free 2nd opinion?
If, on the rare occasion, you're unsure about a diagnosis, we offer a free 2nd opinion with one of our specialist team
What to know more?
Simply click the button below and we'll contact you to understand how we may help you and your pet